later post  |  index  |  earlier post
Best used city cars to buy
  Friday, 29 June 2018
City cars have come a long way in recent years, with manufacturers becoming adept at providing compact cars with ample space for passengers and storage.  A city car is the perfect choice for quick trips into town and other short journeys with minimal fuss and cost.
Many city cars now available on the second-hand market offer plenty of style and comfort, boasting qualities above and beyond vehicles which are a class above them, yet being sold at lower prices.
In this article we've compiled some of the most valuable city car bargains to keep an eye out for – factoring in price, space, fuel economy, running costs and more – to help your guide decision-making process.  We plan on releasing more advice for different car categories over the coming weeks.
Generally, the quality of used city car will be judged on:
Compactness of dimensions and interior space
Balance of engine size, economy and affordability while still being capable of occasional motorway journeys
Agility and manoeuvrability, especially regarding suitability to town traffic and parking
We've organised these prospective vehicles by the upper limit you might expect to pay for a used model.  However, every car on the list is a celebrated vehicle, lauded by journalists and car experts, offering the chance at a genuine bargain if you're willing to be flexible.
If you have the budget available, you should have no trouble finding a good value and economical vehicle for under £10,000.  You'll be spoiled for choice for relatively new city cars which haven't been worn down by too many small trips.  More expensive and later models also tend to offer the most perks, whether that's in terms of safety or spaciousness.
If you have less than £5,000 to buy your ideal used car with, you needn't worry about the quality of vehicles on offer.  Many of the most notable city cars – by which newer cars are still judged today – are available in later models for a fraction of their initial asking price.  You'll find these in the middle of our list below.
If you're really looking for a bargain, or if your budget happens to run below £3,000, consider looking into some of the older used models which are available on the market.  Some of these entry-level vehicles, although demanding compromise in some areas, provide all the necessary functionality to be used as an effective city car.
Suzuki Celerio (2015-16)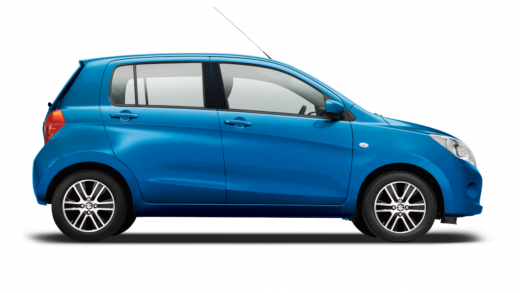 Price from approx. £3,500 - £8,500
Although somewhat lacking in stylishness, this car is impressively roomy in terms of boot and passenger space.  What it lacks in flash it makes up in being reassuringly economical to run.  The Celerio has also received consistently high customer ratings for reliability.
Suzuki Hyundai i10 (2013-14)
Price from approx. £4,500 - £8,000
The Hyundai i10 remains popular even in used markets, retaining good value despite its age.  That the car is still in demand is a good sign of quality, and no surprise given that the vehicle is famously comfortable, quiet to drive, and extremely spacious (well over and above the competition).  The car is cheap to run as well, with certain models offering a range of equipment.
Fiat 500 (2012-14)
Price from approx. £4,250 - £7,000
Both fun and fashionable, the Fiat 500 is a consistently popular vehicle.  It is much loved for light steering and stylishness when driving around town, sometimes in spite of a noisy driving experience behind the wheel, as well as occasionally patchy build quality.  Many drivers are attracted by the wide range of personalisation available to this car.
Seat Mii (2014)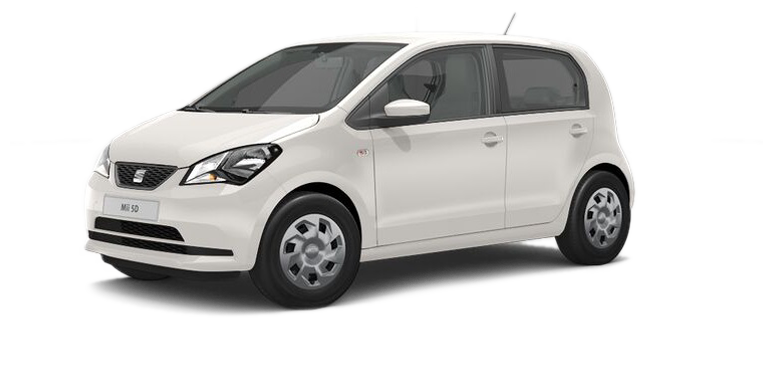 Price from approx. £4,250 - £6,200
The Seat Mii is widely acknowledged as the pretty twin sibling to Skoda's Citigo and VW's class-defining Up (explored in further detail below).  Offering little notable difference to those models in terms of performance, getting a used Mii for under £5,000 is a great-value deal with a lot of practical benefits.
Volkswagen Up (2013-14)
Price from approx. £4,500 - £6,000
When introduced in 2012, the VW Up fast became one of the most celebrated city cars – the benchmark by which all others were measured.  While competition has certainly increased, the Up remains near the top of pile, well-loved for its ample space, comfortable handling, good looks and value for money.
Renault Twingo (2012-14)
Price from approx. £2,500 - £6,000
While expensive when new, a few years on the road can make the Twingo a pleasantly affordable buy.  The vehicle offers plenty of boot space and leg room for passengers in the back, also offering a quiet driving experience.  While interior plastics can be a tad muted and sombre, there are many coloured Twingos on the market featuring custom decals and bright interior trims.
Škoda Citigo (2013-14)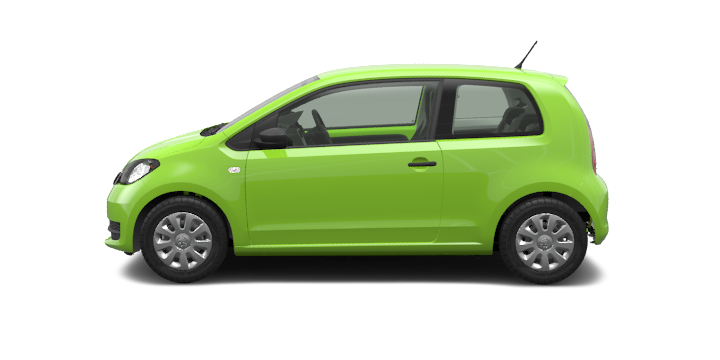 Price from approx. £3,000 - £5,500
Skoda's version of the VW Up, the Citigo can provide great value for money when bought used.  As comfortable on main roads as it is in the city, this vehicle offers a surprising amount of space without compromising on reliability.  Look out for older models which provide the chance of an incredible bargain.
Toyota Aygo (2007-8)
Price from approx. £1,000 - £4,000
Being essentially the same as its sibling vehicles, the Aygo is equally as stylish, economical and flexible for city driving as the Peugeot 107 and Citroën C1 (described below).  It offers the same drawbacks too – being a little tight for space and noisier once on the motorway.  Which vehicle is best for you will depend largely on styling, available extras and (of course) affordability.
Fiat Panda (2008-9)
Price from approx. £2,000 - £3,750
The Fiat Panda's small body packs quite a lot of punch for an affordable price.  Comfortable and quiet, with plenty of room in the back, the Panda is practical for a range of different journeys.  The car is famously affordable to run, offering a major upside to any would-be buyer.  While the interiors can feel a little cheap, the exterior offers a lot of character as an alternative to a Fiat 500.
Citroën C1 (2007-8)
Price from approx. £1,000 - £3,500
Although these entry-level city cars are showing their age by now, with several compromises in the leg room and boot space department, older C1 models can offer a chance at a significant bargain.  While offering similar benefits to the Peugeot 107, usually a C1 can be bought at a better price than the Aygo.
Peugeot 107 (2009)
Price from approx. £1,500 - £2,750
Another example of the entry-level city car, this vehicle shares many of the same qualities as the Citroën C1 and Toyota Aygo.  These siblings may be behind the times, more cramped than later models.  However, the 107 is slightly easier to find on the market and at slightly cheaper prices.  While not as competent on long journeys, the 107 remains zippy, responsive and fun to drive around town.
Prices correct as of June 2018.
We hope you've found this guide to the best used city cars useful.  You can be assured that – if you've done your research on the ideal model, make and prices – these vehicles represent some of the best value purchases you can make on the used car market.
Our regular online auctions – supported by our state-of-the-art HQ in Thame, Oxford – often auctions damaged-repairable models like these, providing an ongoing opportunity to find the precise vehicle you're looking for.  Alternatively, we're also extremely happy to take unwanted used cars to be sold or dismantled as scrap.  Contact us today to discuss your requirements!
later post  |  index  |  earlier post
---