ASM Online Salvage Auction
At ASM, we have a close working relationship with the UK's largest independent vehicle salvage and stolen-recovered agents.  From two-seater cars and motorbikes to large work vans, our online salvage auctions give thousands of road users each week the ability to purchase vehicles up to 50% cheaper than the same model bought from a car dealership forecourt.
Up to 50% cheaper

Up to 2,500 repairable

cars weekly

Up to 20% off

used parts
Thame HQ
Opening Hours
Mon – Thu
8:00am
5:00pm
Friday
8:00am
4:45pm
Sat – Sun
Closed
Expanding from local to online salvage sales
Historically, we have operated a vehicle salvage auction locally in the Oxfordshire and Buckinghamshire area.  However, we have acknowledged the rise in popularity of online salvage sales on auction sites such as eBay and joined forces with UK vehicle insurers and salvage dealers to offer online bidding of salvage cars through our own platform.  If you cannot collect a salvage vehicle bought at auction online, we offer a competitively-priced delivery service to specified addresses.
Understanding vehicle salvage insurance categories
The Association of British Insurers (ABI) recently updated its Code of Practice for the UK insurance industry to categorise salvage vehicles for re-sale. The new "A, B, S and N" salvage categories replace the existing 'A, B, C and D' scale. Our online salvage auctions will be updated to reflect the latest Code of Practice.
Get to grips with vehicle salvage jargon
Struggling to understand the descriptions of our salvage vehicles within our latest online auction?  Click here to get a full description of each technical abbreviation to put you firmly in the picture before making a purchase.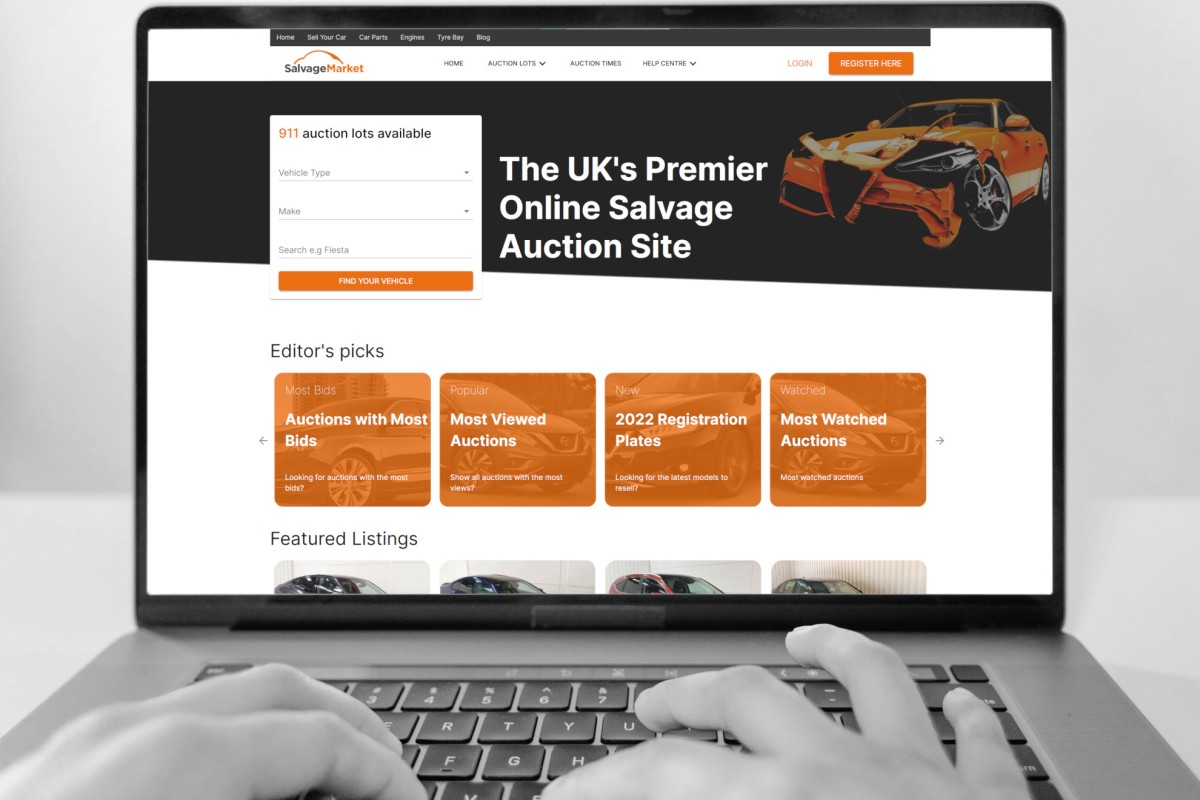 Bid on up to 2,500 repairable cars online each week
Our UK online salvage auctions feature up to 2,500 repairable cars each week, with a broad spectrum of makes and models.  From premium supercars such as Maserati's to functional family estate cars, all of our available salvage cars offer a bargain to those willing to restore them to roadworthy condition.
Parts discount
As a gesture of goodwill to our vehicle salvage buyers, ASM offers a discount of up to 20% on all used car parts supplied for the repair of cars purchased from us.  (NB. This discount only applies to salvage vehicles purchased from ASM Auto Recycling Ltd!  It does not apply to vehicles being sold by any of the other companies on the online salvage auction.)
Delivery service
If you are unable to arrange the collection of a salvage vehicle purchased from us, then we offer a very competitively priced delivery service (please contact us for details).
Deliveries tend to take place early in the morning and are usually done on one of our 6-car vehicle transporters. So please ensure that all specified delivery addresses have sufficient access.
Safety issues
The majority of cars displayed on this site have been damaged in some way or another and we therefore strongly recommend carefully reviewing all photos of the vehicles prior to purchase. Furthermore, all salvage vehicles are "sold as seen" and the photographic images provided on this site are for guidance purposes only.
We will provide a V5 Registration Document where available, but salvage vehicles will not be supplied with either an MOT Test Certificate or a Road Fund Licence - you must apply for these after repairs have been affected and the vehicle has been returned to a roadworthy condition.