later post  |  index  |  earlier post
Best used small cars to buy
  Monday, 15 October 2018
Size does sometimes matter, but it's not always about being the biggest.  A small car is the ideal solution if you spend most of your driving time running around town.  Smaller cars can also present a fantastic opportunity if you're looking for the most affordable and economical vehicle money can buy.
This list of the best small used cars is organised by what you can expect to pay, from the priciest to the most affordable.  If you're looking for a used small car under £10,000, you're in the right place to learn more.  Don't worry if your budget is less than £5,000 – just scroll to the bottom of the list for some of the biggest bargains you can find.
Those willing to shop around will find the used car market offers an extensive choice of small second-hand cars.  There's more to your decision than price and availability, however.  That's why you'll find only the most celebrated small cars here – each judged by their running costs, safety features, ride comfort, overall practicality in different driving conditions, and more.
Ford Fiesta (2008-12)
Price from approx. £5,000 - £10,000
The Ford Fiesta is a long-standing favourite for British motorists.  Known particularly for its reliability, the Fiesta also possesses a solid reputation as an all-rounder.  It offers crisp steering, low maintenance costs, and dampened suspension, providing comfort levels suiting a much larger car.  The car can be found with a good selection of efficient engines too, although later models tend to offer much more in terms of both style and entertainment options.  Fortunately, due to the Fiesta's immense popularity, it's entirely possible to find a variety of used examples from 2010 for £5,000 or less.
Audi A1 (2010-15)
Price from approx. £5,000 - £10,000
The A1 provides a convenient miniature alternative to Audi's larger models, capturing all the upmarket appeal of the brand with its clean, sporty design and aesthetically appealing interior.  While its size makes it a fine candidate for town driving, there's little compromise on the handling sharpness or engine efficiency we expect from this manufacturer.  Practicality can take a back seat to style, as there is less room for passengers in the rear of the vehicle than other contenders in this category.  However, buying an Audi A1 second-hand – though it can be pricey – offers one of the most affordable routes to tasting luxury car experience.
Honda Jazz (2013-14)
Price from approx. £4,500 - £10,000
A frequent favourite in end-of-year 'best of' lists, the Honda Jazz ticks several boxes in terms of our small car criteria – practical, reliable, and roomy.  The car isn't perfect: the ride is infamously firm, and its mini-MPV aesthetics aren't everybody's cup of tea.  However, the small drawbacks to the driving experience are more than compensated by the Jazz's light steering.  Furthermore, the car offers a great advantage by providing unrivalled amounts of space for passengers and luggage.
Vauxhall Corsa (2014)
Price from approx. £4,000 - £10,000
The Vauxhall Corsa is now beginning to show its age.  However, what it lacks compared to contemporary rivals is balanced by the Corsa's wide availability and affordability on the used market.  The car is no dud, though, offering famously competent ride and handling, as well as plenty of space in the back.  With a lively 1.0-litre petrol engine, the Corsa works perfectly well for trips to town and short motorway journeys.  Nearly as popular as the Fiesta, there's also no shortage of choice available and plenty of high mileage bargains to be found.
Mini Hatchback (2009-11)
Price from approx. £4,000 - £10,000
Like the Audi A1, a used Mini Hatchback represents a fine opportunity to buy and enjoy a small car with more than a touch of upmarket quality.  The Mini is famed for the pleasurable driving experience it offers, especially in petrol-engined versions providing nimble handling, quick acceleration and respectable fuel economy.  That's not saying anything about its characterful styling or good-looking interiors.  The Mini Hatchback can be expensive – even on the used market – while boot and passenger space leaves some to be desired.  However, these aspects can be readily traded for the car's great reliability and sheer fun factor.
Volkswagen Polo (2012-13)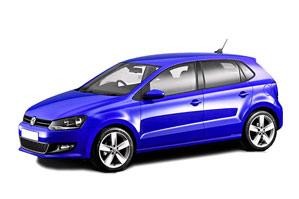 Price from approx. £4,000 - £10,000
Like many on this list, the VW Polo's key selling point is its dependability: generally, this is a reliable car you can buy without fear or trepidation.  The Polo is undoubtedly well-built, providing comfortable ride, ample passenger space, plenty of room in the boot and highly respectable fuel economy.  Prices can sometimes trend on the high side, but you'll likely be spoiled for choice with the large amount of petrol and diesel models available on the used market.  Furthermore, you'll never distrust the Polo's build quality, offering something close to a 'big' car experience, whether driving through town or along the motorway.
Škoda Fabia (2015-16)
Price from approx. £3,500 - £10,000
If practicality is your guiding star when it comes to buying a used small car, you could do much worse than Škoda's Fabia.  While some smaller petrol engines can make acceleration a tad sluggish, the overall driving experience and build quality of the Fabia has been widely praised, topping multiple awards lists over the years.  The Fabia offers more boot space and legroom than many rival models, and what the model sometimes lacks for visual flair is made up by interior quality and a healthy range of equipment options.  Furthermore, it's entirely possible to find a Škoda Fabia on the used market at exceptional value for your money.
Hyundai i10 - (2013-14)
Price from approx. £3,500 - £7,500
The Hyundai i10 is not flashy, at first glance, but under the skin is a great value small car offering a number of advantages to win the heart of the practical motorist.  The i10's chief quality is roominess, providing spacious back seats and an impressively sizeable boot.  Hyundai's i10 also comes with a convenient long warranty, making a purchase of a well-serviced used i10 well worth it for the extra years of coverage.  The car is well-liked for its performance as well, with fine ride and handling, although engines can be on the weak side.  Fortunately, there are a wide range of i10s on the used market with good equipment and affordable prices.
Renault Clio (2012-13)
Price from approx. £3,000 - £10,000
Renault's Clio has enjoyed rising popularity over the years, gaining a reputation as a fun small car with plenty to offer in terms of both personality and practicality.  The Clio's exterior is unquestionably stylish.  The same is true for the interior – except, perhaps, for the cheapest models on the market.  However, with a five-star Euro NCAP rating, the Clio is also famously safe, as well as being much celebrated for its extremely comfortable and responsive driving experience, superb fuel economy and flexible range of engines.  About as roomy as the Corsa and Fiesta (also featured on this list), the Renault Clio is undoubtedly a great small car to buy second-hand.
SEAT Ibiza (2012-13)
Price from approx. £3,000 - £10,000
The SEAT Ibiza has maintained a strong reputation since it was released a decade ago, and in the face of some stiff competition.  Building upon the same platform as the Volkswagen Polo, the Ibiza's primary selling point is the superior driving experience on offer.  In ride and handling, the car is almost unmatched, designed especially to promote a quick, sporty feel.  While it can be less comfortable over bumps than other cars on our list, the Ibiza excels on the motorway, as well as in the town centre, with an enormous amount of boot space for all occasions.  Offering an extensive range of engines to choose from, the Ibiza is increasingly sought after on the used market, especially if your main objective is achieving fantastic value for money.
Prices correct as of September 2018.
We hope that this guide to the best used small cars provides some useful starting points on your journey to buying a great value second-hand vehicle.  Motorists who are willing to shop around are practically guaranteed to find one of these popular, practical cars for exceptional prices on the used market.
Are you already on the hunt for a bargain?  ASM Auto Recycling is home to a consistently healthy stock of roadworthy and repairable vehicles, offering regular online auctions supported by our sites in Oxfordshire and Aylesbury.
As an approved Authorised Approved Treatment Facility, we can also handle the collection, disposal and recycling of end-of-life vehicles and more.  Feel free to contact us today to discuss your requirements.
later post  |  index  |  earlier post
---