ASM In The Community
As a local business, we are committed to giving back to our community. We are proud to support these local charities and organisations. Scroll down or click on a logo to learn more about how we have been contributing recently.
---
Thame United FC and The ASM Stadium
Thame United Football Club's ASM Stadium helps breathe new life into local sport and the community. Watch the video, see the grounds, see the kit.
At its official opening in January 2011, the stadium achieved a record turn-out with almost 1,400 fans in attendance to witness a clash with Oxford United.
The stadium instils confidence and pride which helps the club go from strength to strength. In 2023, for the first time in 21 years, Thame United FC won the Oxfordshire FA Senior Cup beating the incumbent cup holder Oxford City FC.
Not just football, the club makes full use of its facilities by holding dance and exercise classes, and other community functions.
The ASM Stadium is about a mile north of Thame town centre and just 1.5 miles from ASM Auto Recycling's Thame HQ in Menlo Industrial Park.
Related articles
---
Heart of Bucks
ASM Auto Recycling is proud to be acknowledged as a valued, responsible and caring Community Investor in Buckinghamshire by Heart of Bucks.  The Community Investor scheme recognises corporate and business supporters of local communities and charities in Buckinghamshire, through their work with the Community Foundation for the county, Heart of Bucks.
Along with our regular contributions to the Buckinghamshire 'Community Investor Fund', ASM has also sponsored several of Heart of Bucks' Annual Supporters' Receptions including contributions to prize funds for the Peoples' Choice awards – beneficiaries over the years have included Daytop Multicultural Centre, The Pace Centre, Animal Antiks and Buckinghamshire Mind.
"The relationship with ASM Auto Recycling is highly valued by our staff, trustees and most importantly the community which we serve. The funding and support of our corporate and business partners is essential in ensuring that real and sustained impact is made for local good causes, charities and not-for-profit organisations right across the county."
Related articles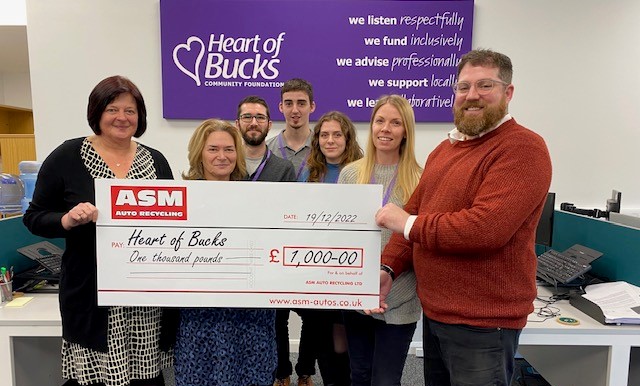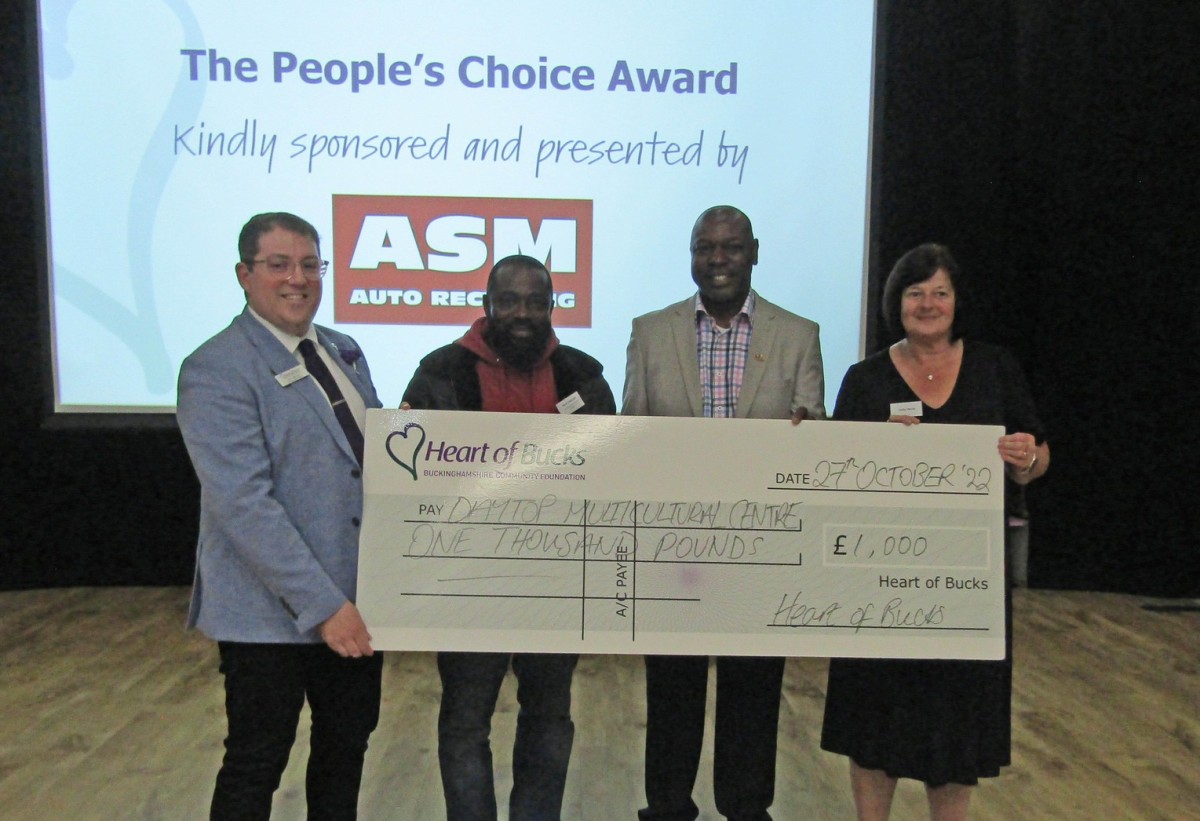 ---
Thames Valley Air Ambulance
ASM Auto Recycling proudly supports Thames Valley Air Ambulance. The charity provides emergency services to seriously ill and injured people across Berks, Bucks and Oxon. Their iconic helicopter and land vehicles carry highly skilled doctors and paramedics who can perform advanced medical procedures at the scene.
Over the years our fundraising activities have raised several thousands of pounds each year. They have included wrapping vehicles in Christmas paper for special auctions, a Christmas Casino & Giant Scalextric event and staff Christmas Jumper days.
We are honoured to be able to contribute to such an important cause that helps to save lives in our community. We're already looking forward to next year's auction and hope to continue to make a positive impact in our community through this event.
"Thames Valley Air Ambulance is at the frontline of saving lives. Within minutes, we bring the expertise, equipment and treatment of the hospital to the scene of an incident. You're helping our paramedics, doctors and pilots to be there for patients when the worst happens. I really can't thank you enough." Read in full...
"We are incredibly grateful for the continued support, kindness and generosity ASM give to our cause, thank you to everyone involved."
---
Florence Nightingale Hospice
ASM staff held a fundraiser at their Christmas Party and Christmas Jumper Day events in 2022.
Our team at ASM raised £578 over the course of these two events and in true Christmas spirit, ASM management have doubled the initial amount taking the total to an amazing £1,156.
We want to thank everyone who took part and donated to this great charity and we know the money will be put to good use.
Meanwhile, our sister company ASM Metal Recycling sponsors the Florence Nightingale Hospice annual walk each year. Participants embark on a scenic 5 and 10 mile route around the breathtaking Watermead lake and Meadowcroft. This year a stunning display of fireworks and hundreds of floating lights on the lake concluding the special day. So far, this year's event has raised over £35,000. All in support of a charity that has touched the lives of many families in the community. More photos our Facebook Page and on FNH's Facebook Page.
Florence Nightingale Hospice Charity is there for patients with life-limiting illnesses, and their families, across Buckinghamshire and its borders.
Their vision is for local patients to be able to access the best possible care and support, whenever and wherever they need it.
---
Owen Racing Team
ASM Auto Recycling is proud to co-sponsor the Owen Racing Team, a father and son touring car team which competes in the Pre-2003 Classic Touring Car Championship.
Watch a video of AJ Owen and the Owen Racing Team (ORT) at Silverstone with the Classic Touring Car Racing Club.
Related articles
---
Music in the Park Thame
At the end of April, Music in the Park held its annual family-friendly day festival at Elms Park with headline act Magic Queen (Europe's top Queen tribute act) and ASM Auto Recycling was proud to be its main sponsor.
Music in the Park a self-sufficient community voluntary organisation which aims to provide the residents of Thame with a fun-packed day out that also provides lasting benefit to those residents in the shape of improved amenities. The organisation enjoys enthusiastic support from Thame Town Council and is a member of the Association of Festival Organisers (AFO).
"Huge thanks to all our sponsors and supporters, without whom Music in the Park would not be possible. Our main sponsors this year are the lovely people at ASM Auto Recycling."
Photography by Miles Gomme, with more on Facebook.
---
Red Kite Family Centre
We are proud to support Red Kite Family Centre, a fantastic organization that provides a wide range of resources and activities for families with young children.
Our donation will help in their efforts to nurture healthy families. We believe that investing in the well-being of our children and families is one of the most important things.
"Thank you ASM, what a great local organisation to be supporting."
---
Lord Williams's School
Inspiring the next generation.
In February 2023 we joined over 60 local employers, training providers and universities at Lord Williams's School.
Students who attended learned about career options available to them and the skills they need to thrive in the future.
Events like Future Fest serve as a reminder to the strength and importance of community coming together and investing in education for the next generation!
---
Crisis at Christmas
Each year, ASM sponsors a table for 10 for Crisis at Christmas, alongside other donations.
Crisis aims to end homelessness and helps provide tailored support all year round – for example, helping someone with finding a home and settling in, gaining new skills or a new job, or helping with their health and wellbeing.
"Supporters like you help give people facing homelessness a safe, joyful Christmas and the support they need to leave homelessness behind for good. I've seen first-hand how bright and confident our guests become over the Christmas period after being shown dignity and care."
---
Whizz-Kidz
Each year, ASM sponsors Glyn Hassall as he runs the London Marathon to raise money for Whizz-Kidz, the UK's leading charity for young wheelchair users. Their vision is a society in which every young wheelchair user is mobile, enabled and included.
"This year, together we have raised almost GBP4,000 for Whizz-Kidz, a record for us in a marathon fundraising year. This is amazing and my thanks, and the thanks of Whizz-Kidz, goes to everyone who has so kindly donated. This year we can definitely change the life of a deserving Whizz-Kidz kid. While every single donation is appreciated, I must mention the three corporate sponsors who have once again contributed this year, ASM Auto Recycling, The Shanly Foundation and Sigma7 \ Paragon. The contributions of these three corporate sponsors have doubled other cumulative donations and so I decided to carry the logos of each company on the rear of my running vest to show my appreciation for their support" Read in full...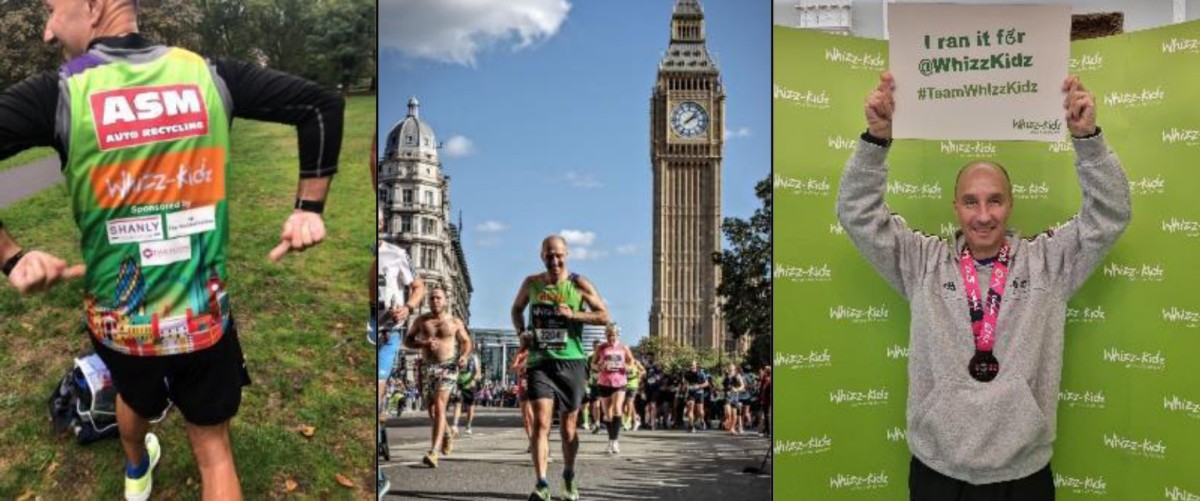 ---
Nightingale's Rainbow
When you look back at the COVID-19 pandemic in the years to come, what will you remember? The images of empty supermarket shelves? Clapping for Carers? Not being able to see loved ones? Having to change the way we all do business? Wherever your mind takes you, there is likely to be a rainbow picture in a window in the background.
ASM sponsored the Florence Nightingale Hospice Charity and the Buckinghamshire Healthcare NHS Trust Charitable Fund to build a tiled rainbow in Spring 2021 to ensure that we recognise, and never forget, the resilience and community spirit shown by the NHS and the people of Buckinghamshire, in responding to the COVID-19 crisis in 2020 and beyond.
Nightingale's Rainbow is a large installation, consisting of an arch covered with thousands of coloured tiles in rainbow colours located on the roundabout at the A&E Entrance to Stoke Mandeville Hospital in Aylesbury, Buckinghamshire, close to Florence Nightingale Hospice. It a physical monument to remember the resilience, community spirit and kindness shown across the communities of Buckinghamshire during the pandemic and a permanent symbol of hope in the face of adversity.
Learn more at www.nightingalesrainbow.org.uk
---